In late 2012, all-time greatness began at night in Åre, Sweden. Mikaela Shiffrin remembers that it was dark, that she reminded herself to race into the light, and that, when light snow fell, the flakes glistened in the floodlights.
She'll never forget the snowflakes, nor that moment, before her second slalom run, when she looked up into the trees and watched them fall. "They were coming down like in a picture, like frozen in time," she says. "And I just remember thinking, This is really, really beautiful."
She finished that run and waited at the bottom of the mountain. Her competitors flew down, one by one. None grabbed her lead. Shiffrin won. One night. One race. Her first World Cup victory. And the beginning of much more.
For a few seconds, she fell into something like absolute shock. She was only 17, making her the second-youngest American ever to win a World Cup race. I think I'm happy, she told herself. But she didn't exactly feel that way. She had dreamt of this precise moment for most of her life. A nine-hour race day had passed by in a blink. Victory had been decided by a split second. She was neither upset, nor disappointed, validated nor elated. She was … sort of empty.
Years would pass before she considered what success looked like, felt like. Shiffrin went on to win her 10th race, then her 20th and, eventually, her 50th and 60th and more. She became known for winning (World Cup races) and losing (at the Olympics). Early in her career, after reading a book titled Choke, by Sian Beilock, about athletes who blundered on grand stages, Shiffrin hoped she'd never do something like that. But while she says she doesn't consider her disappointments choking, many others had described them as exactly that—major, embarrassing, international flubs when the spotlights shone the brightest. Even if this designation isn't fair—she's won two gold medals and one silver in three Olympics—she does say, "I failed. I lost, and it's O.K. to say that. It's O.K. to say that to me."
Shiffrin believes people are scared to say such things to her, beyond keyboard warriors competing for angst and retweets. But Shiffrin hasn't just won a million ski races over the past 10 years—including her 87th World Cup win on Saturday in Åre, Sweden, the most by any skier ever, passing Ingemar Stenmark's all-time record set more than 34 years ago. She has redefined what constitutes success, all while displaying the rarest duality in sports. She became a superstar, an all-time great, impenetrable—and one who's fragile, anxious and delightfully introspective, too.
"Maybe part of all this is also part of my legacy," she says, meaning her pursuit of her sport's most heralded records. "To remind people that it's O.K. to lose, it's O.K. to fail and it's O.K. to put your name on that."
---
Snowflakes come up often in Shiffrin's story. Since she's a skier, that might seem obvious. But they also represent how she views her unprecedented tally of triumphs. They're all different, all meaningful; each holds a small space in her soul. Some meant more, some less. Some resulted from skill; others, from will; others, from course conditions, new training methods, competitors' failures, injuries, timing, recovery, workouts, weather and good fortune.
Shiffrin wins and wins and wins. She won ski races all over the world; in the Czech Republic, in Italy and Slovakia, Croatia, Austria and Switzerland. All those are just in the last three months. She won while sick and while hurt, when she felt amazing and when doubt threatened paralysis. She won while leading after her first run and while trailing by margins that seemed impossible to make up. She won in rain, in snow. She won in temperatures that melted courses and in frigid cold that froze everything in sight. She won with technical proficiency, by assuming additional risk, by avoiding dangers that lead to mistakes. She won because she's fast. She won because of how she navigated a certain turn or an entire course. She won because she recovered, because she cleared her head, because of coaching, because she found the motivation, for whatever reason, on whatever day. She won in six disciplines, in speed races and technical races and in events that combine both. She won more often, in more ways, than any skier ever had.
Skiing is not like a tennis match, where the score is tracked every point and there are breaks and fans can sense the shifts in momentum and strategy. In Shiffrin's sport, there's no precise moment when someone wins and someone loses. Just dozens of competitors, the clock and math. There are razor-thin margins and ever-shifting variables. Consistent winners must adapt and navigate terrain that shifts in their brains and below their skis. Shiffrin remembers moments more than times or podiums. Like meeting a young woman with leukemia after one victory, handing over her flowers from the medal ceremony and watching the woman's mother cry.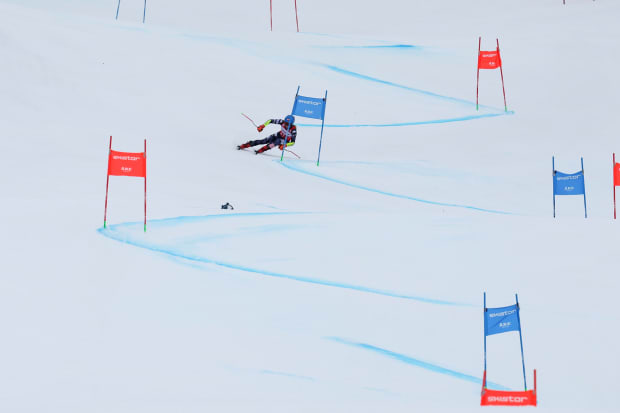 Whenever a competitor wins as frequently as Shiffrin, there's an assumption that they learn how to process everything—interviews, commercials, endorsements, fame, attention, criticism—over time. That's not true, at least not for her.
Actually winning, Shiffrin says, is easier than talking about winning. Full stop. After races, she doesn't truly know what she did well or poorly until she watches film of herself. She hasn't thought about the greater significance of how this particular win fits into the overall arc of her career, let alone her sport. She takes her skis off, hugs her competitors and is thrown immediately into an interview gauntlet, where everyone seeks to ascertain that very significance of her overall dominance, while asking for answers she does not yet know. Her life context might have been the difference between winning or losing. But there's no time to explain, or to process.
"The world thinks you're celebrating," she says. But that's not it. "You're in such a cluster," she says. "It's chaotic and exhausting. I normally leave with a splitting headache and stomachache."
How Shiffrin came to define success is counterintuitive. If she, like fans, historians and pundits, saw it only in terms of medals and records, what would she make, then, of her Olympic history? Like that day last winter, atop a slalom course in Beijing, when she fell right on her backside five seconds into the run, and sat there for 20 minutes, frozen, unable to move. Was she a failure? Had she choked? If wins equaled success, then yes, she had.
Never mind that two weeks before she had broken Stenmark's record for most World Cup victories in a single discipline with her 47th slalom win. Forget the dozens of factors in play, everything from COVID-19 protocols to recent injuries and illnesses, not to mention a coaching switch, a two-week quarantine and the unfathomable pain from the death of her father, Jeff, in 2020.
Dozens of elite, world-class competitors desperately worked, pushed and fought to win all those same races. Many trained only for the technical events, meaning they trained far more for those races than Shiffrin ever could. That none of them beat her those 47 times didn't make her winning easy. It made her tally even more remarkable. Did that make her successful? There's the trap. If she believed success came from 47 slalom triumphs, then falling in the most important slalom race held every four years had to be a failure, right?
In Beijing, Shiffrin sat there, atop that mountain, like the world's saddest human icicle. Then a song from Frozen II randomly popped into her head. In "The Next Right Thing," Kristen Bell sings …
But a tiny voice whispers in my mind
"You are lost, hope is gone
But you must go on
And do the next right thing"
At that moment, transitioning from frozen butt to Frozen II, the lyrics deeply resonated. She made her way down the mountain, toward the cameras and microphones and the faces that looked at her with pity. She met all with an unexpected grace. She laid bare her darkest fears, those nights she spent lying in bed, thinking she couldn't win anymore; those training runs, after she lost her father, when she couldn't remember how to ski. She continued to compete, both in China and afterward, while a wider audience saw in her failure a vulnerability they would never see in her dominance. They could relate to her.
Was that a success? Her largest? Nowhere near her records? Hard to say. But what Shiffrin does say speaks to the question only she could answer:
What was success, anyway?
---
The concept of attainment, for Shiffrin, shifted over time. As a young skier many considered a prodigy, she listened to her parents, Eileen and Jeff, who told her to focus on process, on improvement and joy. Over time, she came to see racing as her release, and not just from pressure and expectations, which were immense, but from her own mind. If she can remember anything specific about a particular race, Shiffrin says she probably lost that day. She won when she expressed herself on skis, when she just skied, reaching something more like a meditative state. Success was in finding that state and staying there.
At least at first.
As her career progressed and her victory tally grew, Shiffrin couldn't help but buy into what seemed like "the whole point of the sport." It was winning. Shiffrin loved winning. Winning elicited excitement and adrenaline. Winning gave her millions of fans and a larger, international platform. In a sport where the majority of competitors don't get rich by competing, beating them led to 14 different sponsors, partnerships with Adidas, Land Rover, Visa, Barilla and many others.
Some years, as the money and fame and scrutiny heightened, Shiffrin felt less and less successful. Sometimes, she felt that way while she won. She grew weary of everything that winning birthed. And she considered how she felt after racing faster than anyone in the field. She felt … emotionless. "That's maybe the only time in my life," she says, "where I can't put an emotion or a definition or a feeling on what's in my head."
She thought back to earlier moments. Only now, they made her blush. Like that night in 2018 in South Korea, when she finished fourth in slalom, 0.08 seconds away from another medal after winning gold in giant slalom a day earlier. She wanted to hide. Wanted to dig herself a hole she could climb into, never to climb out. She made the mistake of reading social media posts about her, the choker who failed at the Olympics.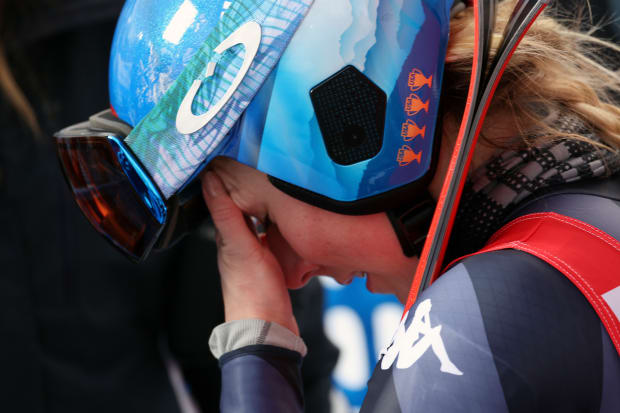 She didn't, as her father told her, "let the turkeys get you down." Then she did. Then she stopped. Then she let them right back in. The back-and-forth, though, was part of the process, critical to her mindset shift. Others could have opinions of her, her success, her records. But those external expectations didn't matter. The internal pressure—and how she dealt with it—did. By separating the two, she could define what success looked like and reclaim her self-worth.
Shiffrin wanted to win, but she also wanted to test herself and grow. She wanted to impact her sport, bolster the attention devoted to ski racing and help younger racers. Wins mattered. Records mattered. But so did everything else. What made her an elite conqueror of mountains—physical strength, mental fortitude, the right team, exacting preparation—made her a better, happier, more successful human, too.
By the time Shiffrin worked her brain into that space, she knew what she needed—to find that 6-year-old who fell in love with skiing. That kid had success right all along.
---
This season—the one after her Frozen II Olympics, the six events and zero medals—started last November. Shiffrin's goals? Ski well and free, and stay healthy. She hoped for between four and six wins, a mark she considered lofty, in part because she's 27 and in her ninth season, but one that was in line with her total from the three previous seasons. Freak injuries, while common, tend to happen more frequently as skiers age.
In the season-opening event in Levi, Finland, Shiffrin picked up career victories 75 and 76, both in slalom, on back-to-back days. She didn't win again for almost a month. Then she didn't stop winning, not in Switzerland, Austria and Croatia. From Dec. 18, 2022, to Jan. 4, 2023, she triumphed in five consecutive races (a Super-G, two giant slaloms, two slaloms) for the second time in her career. She hadn't won a Super-G in more than a year, another sign. She became only the third female racer in the past six decades to top the first run while starting in the worst position (seventh), another harbinger. She confronted the dreaded soft snow that has perpetually plagued her. By then, her tally stood at 81. Her next victory would tie Lindsey Vonn.
Shiffrin reached the precipice of history in the Julian Alps, high in the remote and stunningly beautiful ski village of Kranjska Gora, Slovakia. For three days, everything went wrong. She finished sixth in giant slalom, ending her streak. High temperatures and wind pushed the next giant slalom event back four days. The delay allowed her mind to drift. She desperately wanted to win. A rash broke out on her face from the nerves. She was nervous. But she was also better prepared to navigate her feelings. She told herself: Enjoy skiing like this as long as you can.
Her coaches handed Shiffrin the strategy report they compile before every race. Fully attackable, it read, which surprised her.
The human brain, odd and magical place that it is, shoved Shiffrin back toward doubt. She thought about races with similar notes and the wins she "gave" away. But rather than sit with those thoughts, she went right at them. Fight for it, she told herself. Just don't be mediocre. Just be good. Just this run.
She clocked her first run at 55.30 seconds, then her second at 57.23. She topped her next-closest competitor that day by 0.77 seconds. More importantly, she tied Vonn, her next-closest competitor for best women's ski racer of all time. For comparison's sake, Vonn won her first World Cup race at 20 and her last at 33. Vonn won once every 4.82 starts on average, while competing in 395 races. Shiffrin equaled her win total in 233, in two fewer seasons. At the same point, Vonn had amassed 53 victories.
"Maybe at some point people will stop talking about the record," Shiffrin said that day, perhaps as an exercise in hopeful thinking. Of course "they" wouldn't, not after she passed Vonn with her 83rd World Cup win on Jan. 24 to become the winningest women's ski racer of all time. Not with Stenmark's 86 now tantalizingly close. Four more triumphs and she would stand alone.
Shiffrin felt fatigued from the combination of season, expectations, obligations, stress. She worried about things she didn't want to worry about, like reading the headlines and social media posts every time she didn't win until she did again. She held a higher winning percentage in her sport than Tiger Woods or Serena Williams did in theirs. But doubt and dominance always lived in her body, often at the same time.
Tears skied down cheeks on March 10, in Åre, Sweden. Shiffrin triumphed by 0.64 seconds ahead of Italy's Federica Brignone to claim World Cup win No. 86, tying Stenmark's record. She described the moment like a fairy tale, because it happened in Åre, site of that first-ever World Cup win and her first-ever giant slalom win. Shiffrin even tied Vreni Schneider for most-ever giant slalom victories (20), in an event that's not even her best.
But she didn't stop there. One day later—and exactly 12 years to the day since her first World Cup appearance on March 11, 2011—Shiffrin finished 0.92 seconds ahead of Switzerland's Wendy Holdener to capture No. 87, a historic mark that makes her the winningest alpine skier ever. The GOAT. The victory brought her to 13 World Cup wins this season, the most for any skier in one season since she won 17 in 2018–19.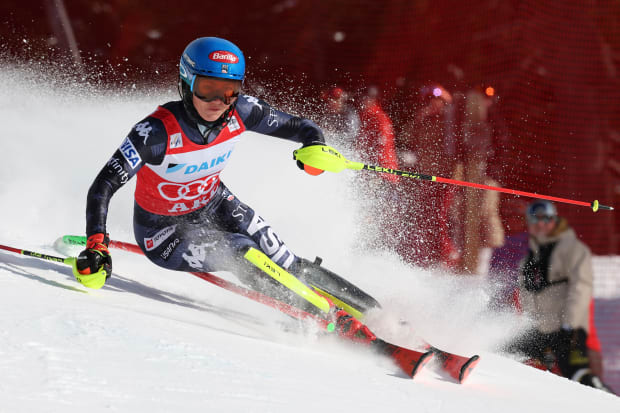 Next: on Monday, despite a list of accomplishments that grows longer by the week, she'll turn 28. She's expected to race again at next week's World Cup Finals in Andorra.
During the historic run, her brother, Taylor, sent Mikaela a text message. Really proud of you, love you Kayla P. That was the nickname their father gave her, from their familial Star Wars obsession. Grogu, she responded, meaning Baby Yoda, and they laughed about her yellow children's slippers, a long-ago Christmas present. She wore them everywhere, and she would shove her feet through the opening to grab his knees.
She had found that 6-year-old again.
---
Shiffrin redefined her career right in the middle of it. She tried to cease thinking about her legacy. It wasn't just win totals. It was mentoring. It was friendship. It was freedom of expression. It was bleeding for wins. Vomiting for them. Rehab. COVID-19. Unending grief.
She gave up external definitions of success for something more authentic. Those Olympics, held roughly a year ago, now seem like another life. Sometimes, her brain still descends into a fog. Like having a concussion, she says, except here, it's grief. This season, she went there less, which signaled a better headspace for the pain that will never fully go away. The injury that no one could see began to heal. She believes her father would be proud of her for remembering that, for moving forward, for competing and for rediscovering her joy. She just wishes he could tell her that himself.
Thinking about it is, she says, "the only thing keeping me sane right now. Because if I was thinking about records and all that other stuff, to be honest, I would have retired. It was too much pressure. But there was a way to relieve pressure: by essentially not caring about it at all.
"This season has been more successful than I ever thought would be possible at this point in my career. It's so counterintuitive. You have to let go of something to truly enjoy it, and to truly enjoy it, you have to care about it."
In her quest for redefinition, Shiffrin reflected on that book, Choke, she read early in her career about athletes who failed when the stakes were highest. She no longer viewed her Olympic failures as "choking," which might be the greatest win of her career. Losses were part of racing, part of sports. Losing, she came to believe, was as unavoidable as it was unimaginable, or un-processable, a few years back. "And," she says, "if anything, it might actually be a gift."