Which tree pruner is best?
The best tree pruner is one that is big enough to remove woody material from your trees while being easy to handle. Tree pruners not only come in different sizes and shapes but in manual and powered versions that use different methods. With the right tree pruner, you can prune away anything from large tree limbs to small branches.
What is a tree pruner?
A tree pruner is a tool designed to trim dead or diseased branches from trees to maintain their health. Pruners are also used to shape trees and shrubs to make them look more appealing by removing live branches that are too short or too long. Pruners use one of several different methods and are designed to cut small, medium or large twigs, branches and limbs.
What to know before you buy a tree pruner
There are four different categories of tree pruners, each designed to perform a specific task.
Hand pruners are the smallest, good for one-handed cutting of twigs and branches about the thickness of pencils. They are also called pruning shears.
Loppers are bigger than shears and have bigger blades and longer handles. You use two hands to supply the power and leverage.
Pruning saws are hand saws with curved, toothed blades that cut branches up to 8 inches thick.
Pole saws are pruning saws on long handles for cutting branches overhead while staying on the ground.
What to look for in a quality tree pruner
Blades
Hardened steel and carbon steel are strong materials that won't break or bend under pressure. Higher-grade steels also stay sharp much longer than lower-quality steel found in budget pruners, loppers and saws. Some blades are treated with coatings that reduce friction and channel away tree sap to make cutting easier.
Handles
Wooden handles are strong but deteriorate over time.
Steel handles are the strongest and most durable but also the heaviest.
Aluminum handles are lightweight but lack the strength needed to cut larger limbs and branches.
Fiberglass handles are strong and lightweight.
Grips
Hand pruners should have ergonomic grips designed so your hand rests comfortably in the proper position. Look for grips that are made of long-lasting, nonslip materials.
Four types of tree pruners
Choose the tree pruner that is sized for the limbs, branches and twigs you want to remove.
Hand pruners
These manual hand tools are also called pruning shears. They are made to be used with one hand and are for cutting branches smaller than an inch in diameter.
Bypass pruning shears work like a pair of scissors: two blades passing each other.
Anvil hand pruners have a sharp upper blade that closes onto the anvil, the lower jaw.
Loppers
These long-handled bypass pruners are made to cut larger branches. Their design uses two sharp blades to cut the branches from both sides at once with a levering action. They look like a bigger, stronger and sturdier pair of hedge shears and are good for pruning branches from 1 to 2 inches in diameter, about the width of a finger or two.
Pruning saws
Pruners and loppers work by pinching and slicing through tree limbs and branches. A pruning saw is a hand saw that cuts with a back-and-forth motion. Pruning saws are used to cut bigger branches than loppers can handle.
Pole saws
Pole saws are pruning saws with long handles, so you can cut those overhead branches you can't reach from the ground. They are considered to be much safer to use than pruners or loppers that would have you balancing on a ladder. Because they're tools with a single long handle, it is no longer feasible to cut with a scissoring motion, so a saw with sharp teeth does the work.
Hand-operated: These are less expensive than powered pole saws but require more strength and stamina on your part.
Powered: They cost more and are heavier than manual pole saws, but they cut more quickly and make pruning less of a chore.
Best hand pruners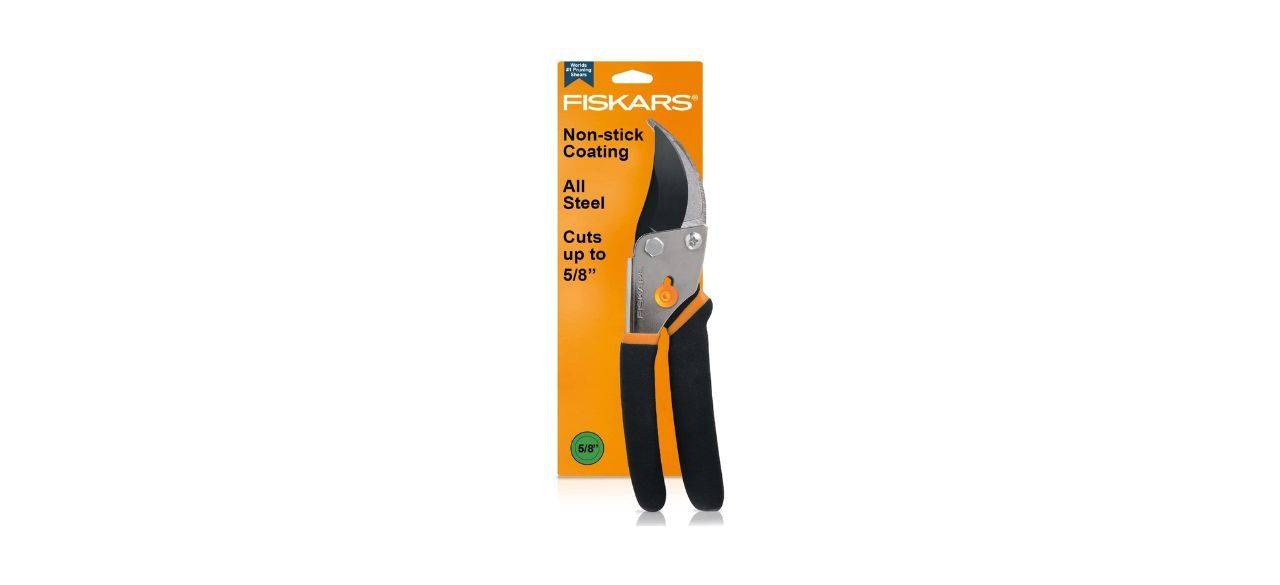 These garden shears have nonslip grips and two friction-coated steel blades that come together to make clean cuts on branches up to five-eighths of an inch thick.
Sold by Amazon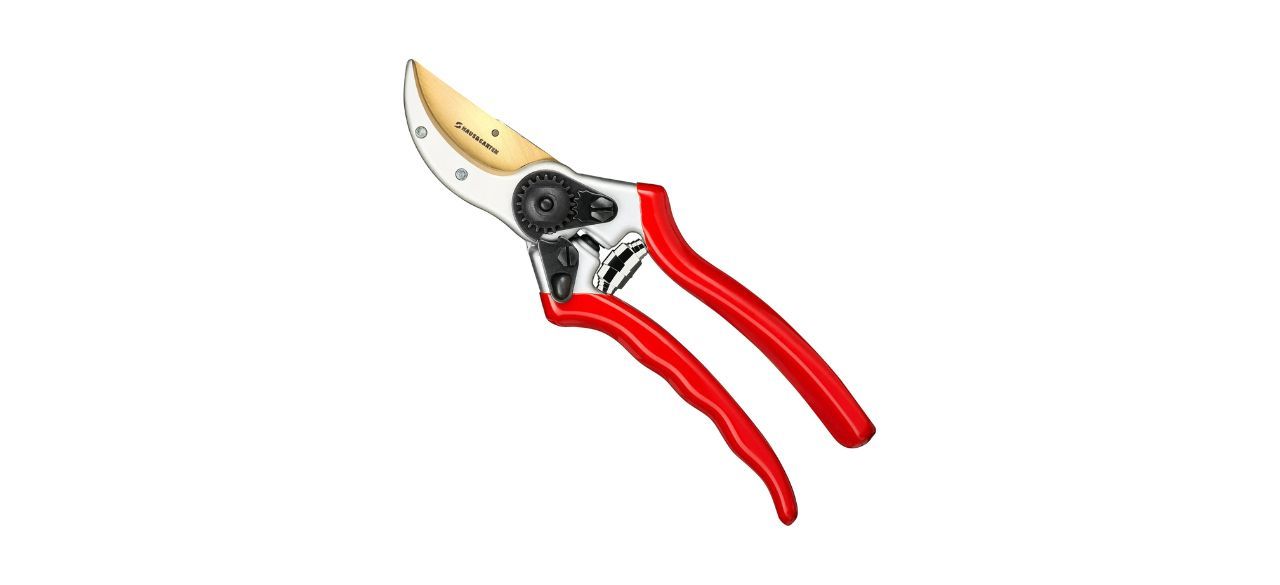 Haus & Garten Titanium Heavy Duty Bypass Pruning Shears
The titanium coating on the hardened steel blades can cut branches up to 1 inch thick. The cushioned pads absorb shock and are ideal for people who have arthritic hands.
Sold by Amazon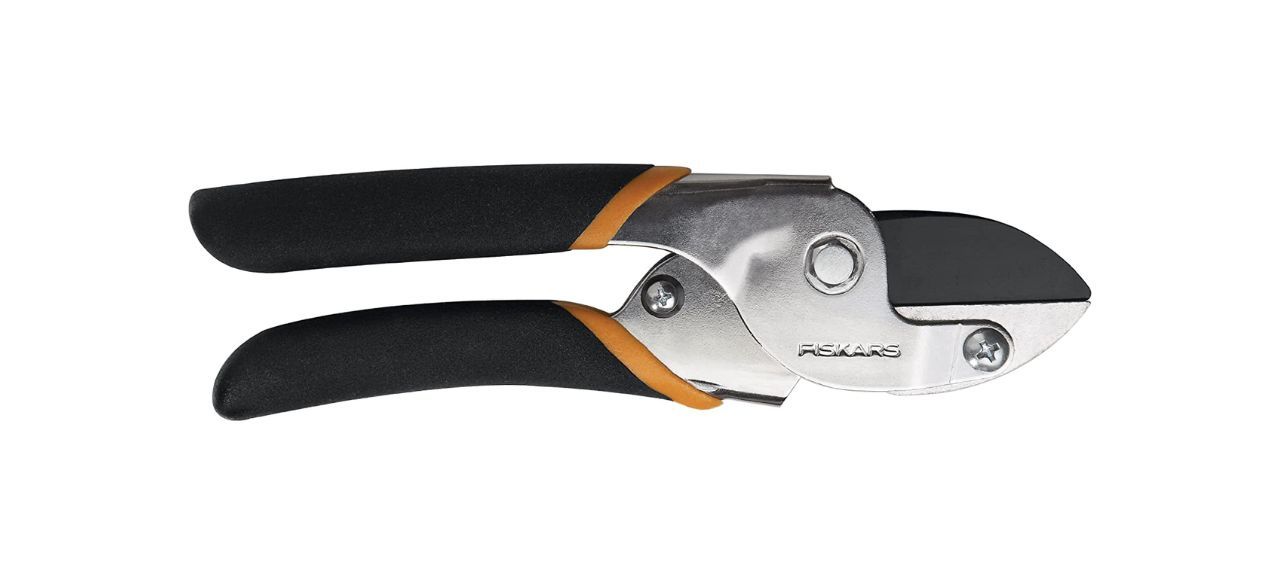 Fiskars Power Lever Anvil Pruner
The special levering technology maximizes mechanical advantage to make cutting twice as easy. This tool is made for pruning away dry, dead growth up to five-eighths of an inch in diameter.
Sold by Amazon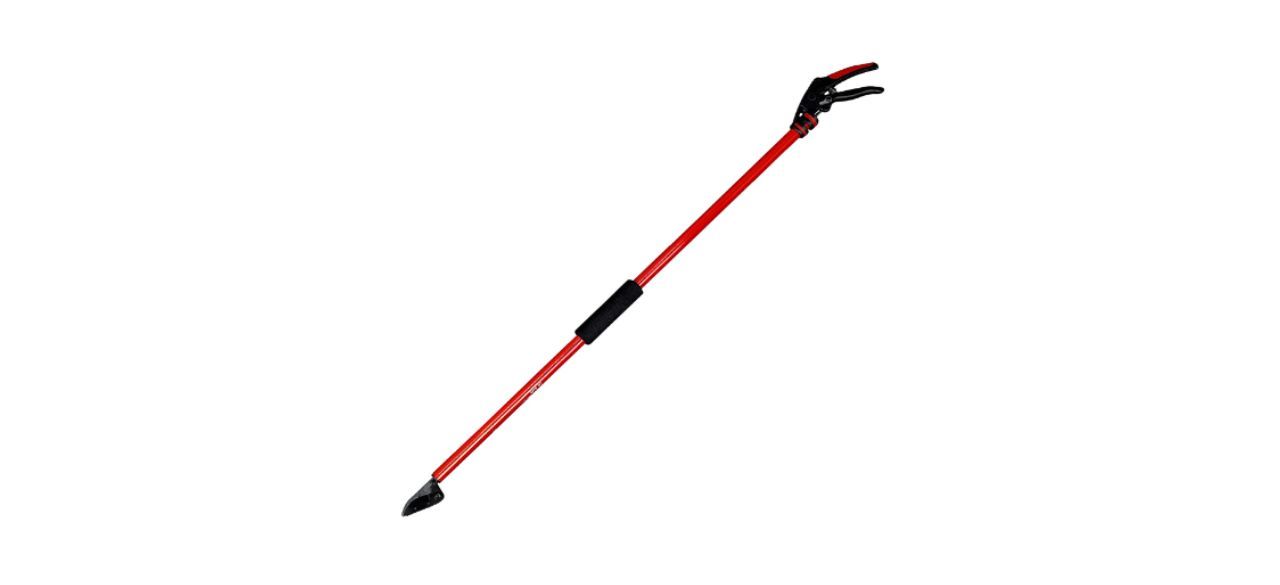 Corona Long Reach Cut 'n' Hold Pruner
You can cut small branches up to half an inch in diameter with this 46-inch tree-trimming tool. The cut and hold feature grips the wood until you release it, keeping you safe from falling branches.
Sold by Amazon
Best loppers
Tabor Tools Compound Action Anvil Tree Trimmer
Cut branches up to 2 inches in diameter easily with this 30-inch steel-handled tool that weighs less than 4 pounds. When the blades are dulled from extensive use, you can easily swap out new ones.
Sold by Amazon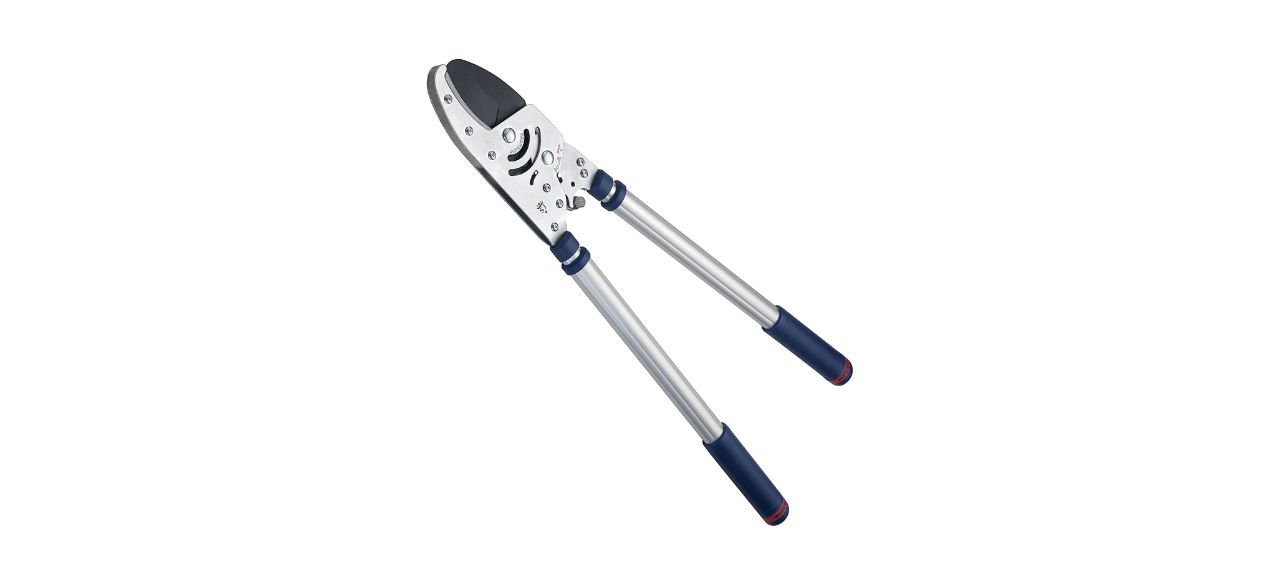 Spear & Jackson Razor Sharp Heavy Duty Telescopic Ratchet Anvil Loppers
These pruners easily handle 2-inch branches with a carbon steel blade and a ratchet action that advances the spring-loaded blade in short, easy steps. The handle length adjusts from 18 to 31 inches.
Sold by Amazon
Best pruning saws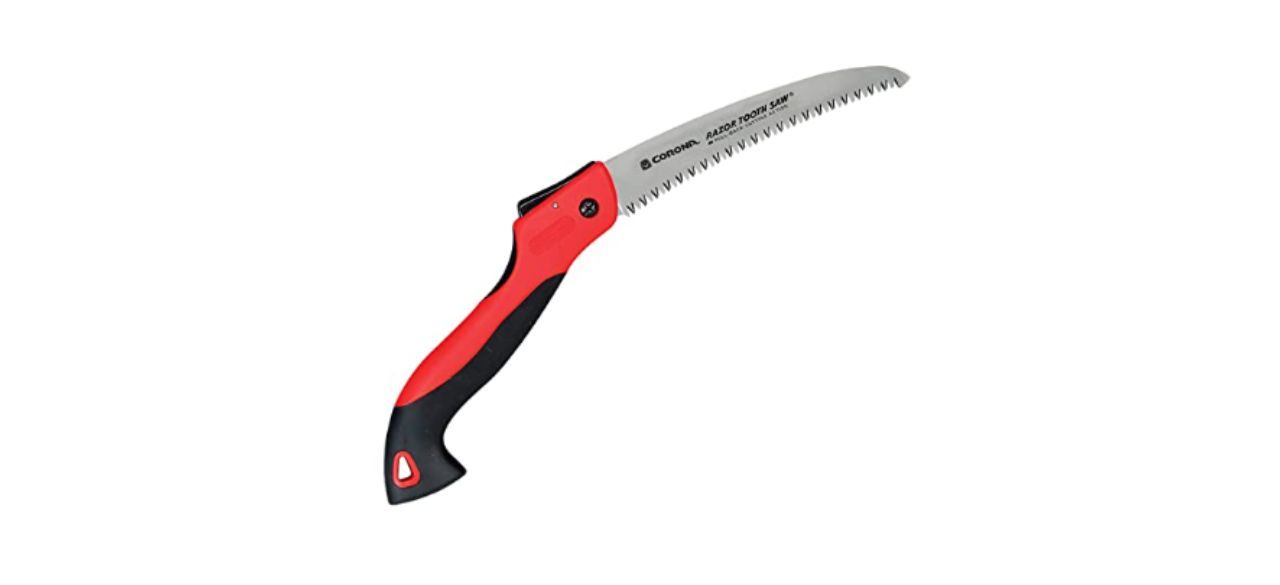 Corona A.M. Leonard 7-Inch Razor Tooth Folding Saw
The blade is chrome-plated, and each razor tooth has three sharp angles for faster, smoother and easier cutting of dead and hard limbs up to 3 inches in diameter. The blade folds into the ergonomic handle for safety.
Sold by Amazon
Best pole saws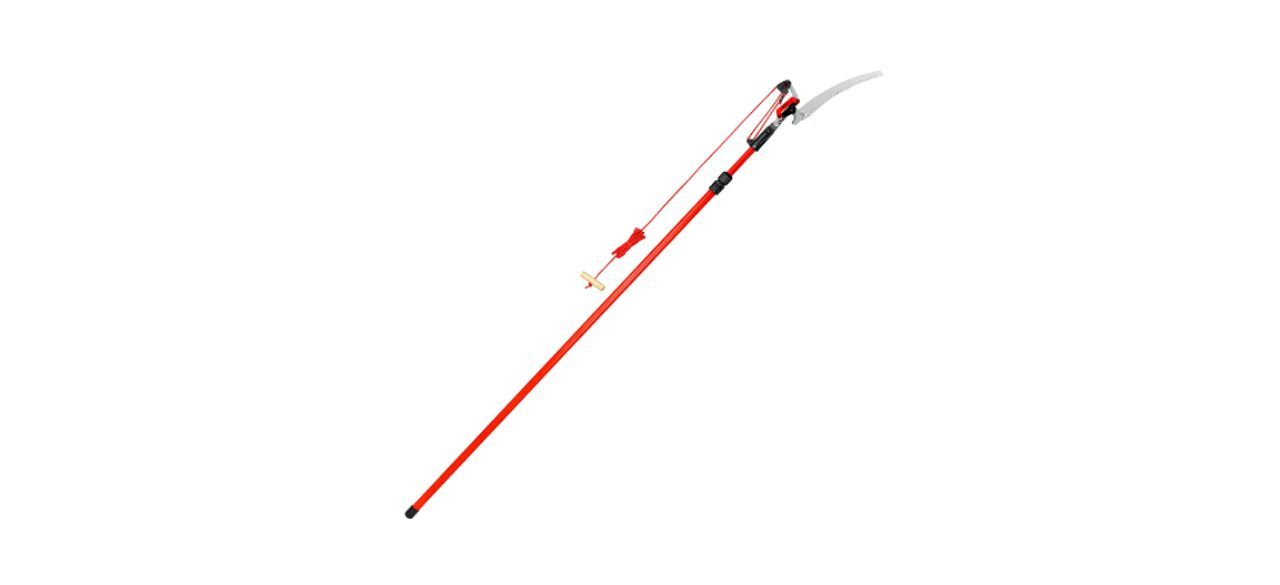 Corona Dual Link Tree Saw and Pruner
The compound action pulley design adds leverage to give this tool three times the cutting power of competitors. Use one of the lightweight reinforced fiberglass poles for a 6-foot extension or both to double your reach.
Sold by Amazon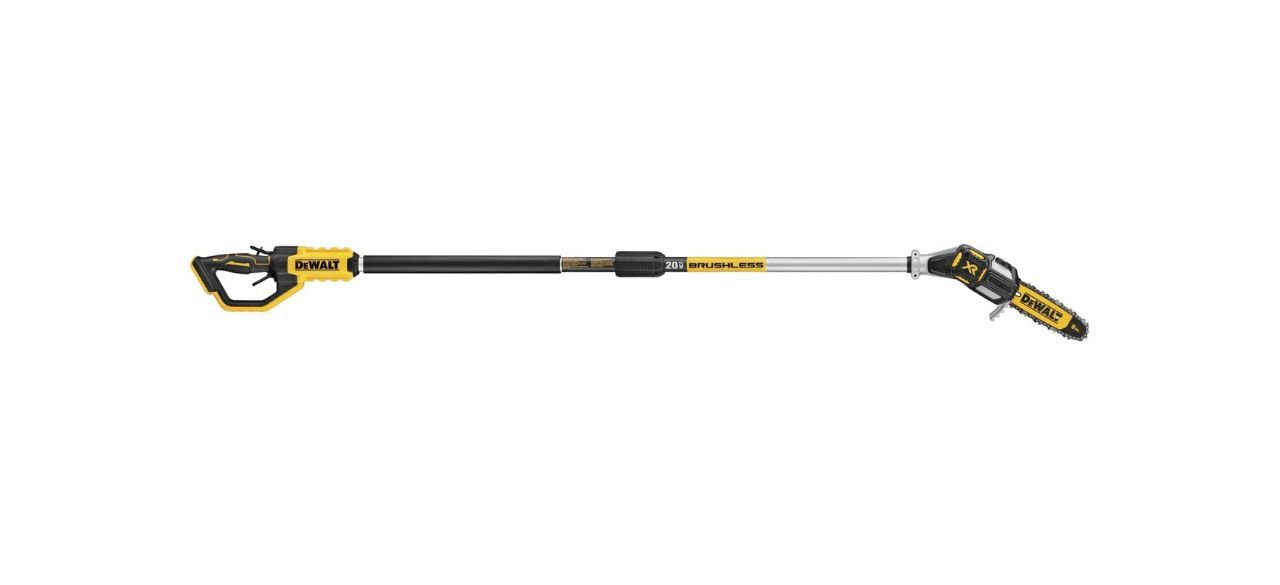 DeWalt Battery-Powered Adjustable Length 20V Pole Saw
The battery that powers this 4-inch chainsaw-on-a-pole makes up to 96 cuts before needing to be recharged. The pole extends up to 10 feet for a total reach of 15 feet.
Sold by Amazon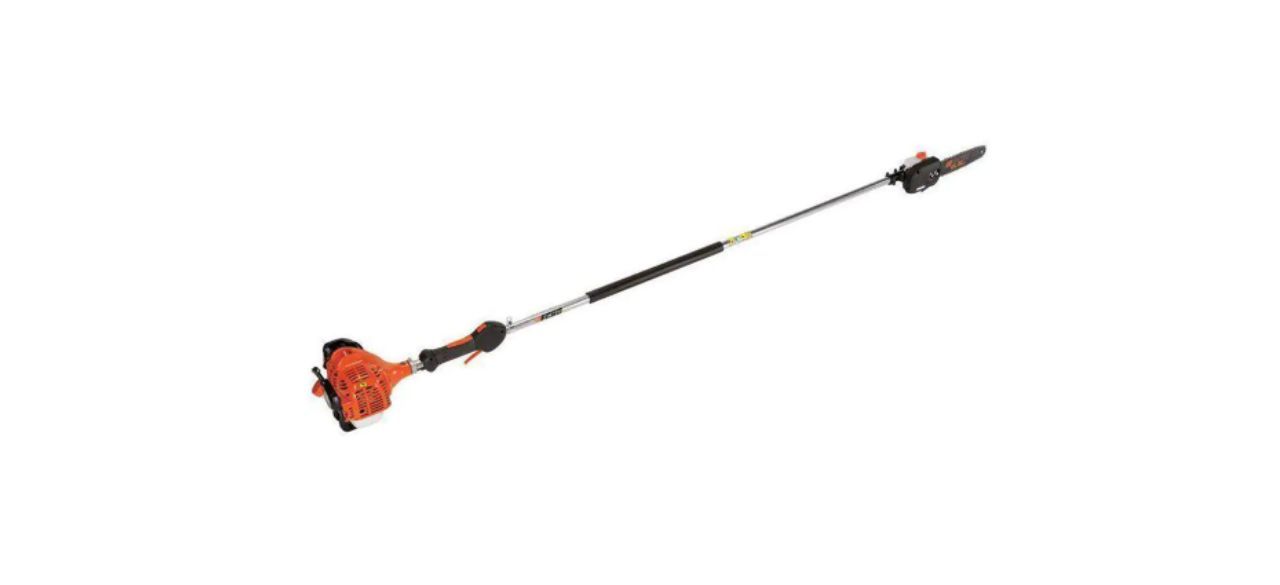 Echo 21.2 cc 2-Stroke Gas Pole Saw
This 15-pound saw has a shaft nearly 8 feet long, and its weight is supported by a shoulder strap. Rubber grips on the front and rear handles reduce vibration and operator fatigue.
Sold by Home Depot
Want to shop the best products at the best prices? Check out Daily Deals from BestReviews.
Sign up here to receive the BestReviews weekly newsletter for useful advice on new products and noteworthy deals.
David Allan Van writes for BestReviews. BestReviews has helped millions of consumers simplify their purchasing decisions, saving them time and money.
Copyright 2023 BestReviews, a Nexstar company. All rights reserved.