Ingredients: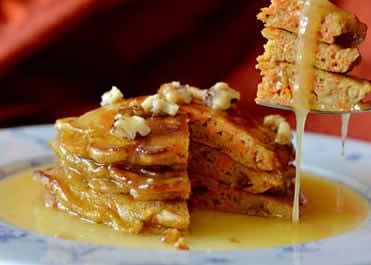 1 1/4 cups all-purpose flour
1/4 chopped walnuts, toasted
2 tsp baking powder
1 tsp ground cinnamon
1/4 tsp salt
1/8 tsp freshly ground nutmeg
Dash of ground cloves
Dash of ground ginger
1/4 cup brown sugar
3/4 cup low-fat buttermilk
1 Tbsp canola oil
1 1/2 tsp vanilla extract
2 large eggs, lightly beaten
2 cups finely grated carrot (about 1 pound)
Cooking spray
3 Tbsp butter, softened
2 Tbsp honey
Directions:
Combine flour, walnuts, baking powder, cinnamon, salt, nutmeg, cloves and ginger in a large bowl, stirring with a whisk. Combine 1/4 cup brown sugar and next 4 ingredients (through eggs); add sugar mixture to flour mixture, stirring until just moist. Fold in 2 cups carrot.
Heat a large, nonstick skillet over medium m heat. Coat pan with cooking spray. Spoon 4 (1/4 cup) batter mounds onto pan, spreading with a spatula. Cook for 2 minutes or until tops are covered with bubbles and edges look cooked. Carefully turn pancakes over; cook 1 minute or until bottoms are lightly browned. Repeat procedure twice with remaining batter.
Combine butter and honey in a small bowl, serve with pancakes.